Promotional tour by Rihanna

Start date
November 14, 2012
End date
November 20, 2012
Shows
3 in North America
4 in Europe
7 Total
The 777 Tour was a promotional tour consisting of seven dates in seven countries to support Rihanna's upcoming seventh studio album Unapologetic. The tour started in Mexico City and ended in New York City. After the tour ended and the album was released, Rihanna announced the Diamonds World Tour.
Background
Edit
Rihanna announced she would be embarking on a seven day promotional tour for her upcoming seventh studio album. The tour visited seven countries around the world, both in North America and Europe. Rihanna invited 150 journalists representing 82 countries and a selected group of her fans to join her on the road. To add to the theme of the tour, Rihanna flew on a private Boeing 777 to each date.[1]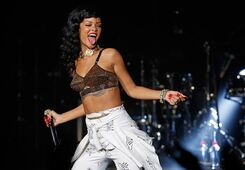 "Man Down"
"S&M"
"Stay"
"Run This Town"
"Live Your Life"
"All of the Lights"
"Diamonds"
"Umbrella"
This setlist is representative of the performance in London.[2]
Tour dates
Edit
Date
City
Country
Venue
North America
November 14, 2012
Mexico City
Mexico
El Plaza Condesa
November 15, 2012
Toronto
Canada
Danforth Music Hall
Europe
November 16, 2012
Stockholm
Sweden
Berns Entertainment Venue
November 17, 2012
Paris
France
Le Trianon
November 18, 2012
Berlin
Germany
E-Werk Club
November 19, 2012
London
England
The Forum
North America
November 20, 2012
New York City
United States
Webster Hall
References
Edit
Ad blocker interference detected!
Wikia is a free-to-use site that makes money from advertising. We have a modified experience for viewers using ad blockers

Wikia is not accessible if you've made further modifications. Remove the custom ad blocker rule(s) and the page will load as expected.