Tour by Rihanna

Associated album
Loud
Start date
June 4, 2011
End date
December 22, 2011
Legs
4
Shows
61 in Europe
33 in North America
4 in South America
98 Total
Box office
$90,000,000
Rihanna tour chronology
Loud Tour was the fourth concert tour by Barbadian recording artist Rihanna. Performing in over twenty countries in the Americas and Europe, the tour was launched in support of Rihanna's fifth studio album Loud (2010).
Critics acclaimed the show for its liveliness and higher caliber of quality when compared to Rihanna's previous tours. The Loud Tour was a commercial success, experiencing demand for an extension of shows in the United Kingdom due to popularity. The tour ultimately grossed an estimated value of US$90 million from 98 reported shows and a total audience of 1,200,800. The Loud Tour became the 7th highest grossing tour of 2011.
Critical Reception
Edit
The tour received postivie reviews and critical acclaim. Jon Brean of the Minneapolis Star Tribune remarked, "The Barbadian singer is more visually and vocally dynamic than she has ever been before."[1] Amanda Ash of the Vancouver Sun stated, "Rihanna knows how to throw a party -a sexy, steamy, tightand-bright bash where yesterday's troubles are crushed beneath mile-high stilettos and drowned by intoxicating club beats", and added, "Rihanna turned Rogers Arena into a giant dance club on Friday night."[2]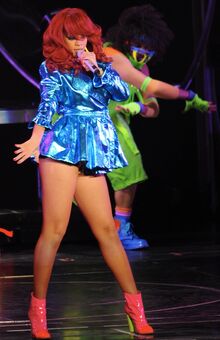 "Man Down"
"Darling Nikki"
"S&M"
"Let Me"
"Skin"
"Hard"
"Breakin' Dishes/The Glamorous Life"
"Run This Town/Live Your Life"
"Rude Boy"
"Umbrella"
This setlist is representative from the first performance in Baltimore.
Tour dates
Edit
Date
City
Country
Venue
North America
June 4, 2011
Baltimore
United States
1st Mariner Arena
June 6, 2011
Toronto
Canada
Air Canada Centre
June 7, 2011
June 8, 2011
Ottawa
Scotiabank Place
June 10, 2011
Montreal
Bell Centre
June 11, 2011
June 14, 2011
Auburn Hills
United States
Palace of Auburn Hills
June 15, 2011
Chicago
United Center
June 16, 2011
Minneapolis
Target Center
June 18, 2011
Winnipeg
Canada
MTS Centre
June 19, 2011
Saskatoon
Credit Union Centre
June 21, 2011
Calgary
Scotiabank Saddledome
June 22, 2011
Edmonton
Rexall Place
June 24, 2011
Vancouver
Rogers Arena
June 25, 2011
June 28, 2011
Los Angeles
United States
Staples Center
June 29, 2011
Anaheim
Honda Center
June 30, 2011
Oakland
Oracle Arena
July 2, 2011
Las Vegas
Mandalay Bay Events Center
July 4, 2011
Albuquerque
The Pavilion
July 8, 2011
Dallas
American Airlines Center
July 9, 2011
Houston
Toyota Center
July 11, 2011
Birmingham
BJCC Arena
July 12, 2011
Atlanta
Chastain Park Amphitheatre
July 14, 2011
Sunrise
BankAtlantic Center
July 16, 2011
Greensboro
Greensboro Coliseum
July 17, 2011
Atlantic City
Borgata Event Center
July 19, 2011
Uniondale
Nassau Veterans Memorial Coliseum
July 21, 2011
East Rutherford
Izod Center
July 22, 2011
Uncasville
Mohegan Sun Arena
July 23, 2011
Philadelphia
Wells Fargo Center
July 24, 2011
Boston
TD Garden
August 5, 2011
Bridgetown
Barbados
Kensington Oval
Europe
August 15, 2011
Helsinki
Finland
Hietaranta Beach
August 17, 2011
Bergen
Norway
Koengen
August 18, 2011
August 20, 2011
Weston
England
Weston Park
August 21, 2011
Chelmsford
Hylands Park
South America
September 17, 2011
São Paulo
Brazil
Arena Anhembi
September 18, 2011
Belo Horizonte
Mineirinho Arena
September 21, 2011
Brasília
Nilson Nelson Arena
September 23, 2011
Rio de Janeiro
Parque dos Atletas
Europe
September 29, 2011
Belfast
Northern Ireland
Odyssey Arena
September 30, 2011
October 1, 2011
October 3, 2011
Dublin
Ireland
The O2
October 5, 2011
London
England
The O2 Arena
October 6, 2011
October 7, 2011
Liverpool
Echo Arena Liverpool
October 9, 2011
Manchester
Manchester Arena
October 10, 2011
Glasgow
Scotland
Scottish Exhibition and Conference Centre
October 11, 2011
October 13, 2011
London
England
The O2 Arena
October 15, 2011
Birmingham
LG Arena
October 16, 2011
Newcastle
Metro Radio Arena
October 19, 2011
Lyon
France
Halle Tony Garnier
October 20, 2011
Paris
Palais Omnisports de Paris-Bercy
October 21, 2011
October 22, 2011
Antwerp
Belgium
Sportpaleis
October 25, 2011
Munich
Germany
Olympiahalle
October 26, 2011
Frankfurt
Festhalle Frankfurt
October 28, 2011
Herning
Denmark
Jyske Bank Boxen
October 30, 2011
Oslo
Norway
Oslo Spektrum
November 1, 2011
Stockholm
Sweden
Ericsson Globe
November 4, 2011
Hannover
Germany
TUI Arena
November 5, 2011
Leipzig
Arena Leipzig
November 7, 2011
Zurich
Switzerland
Hallenstadion
November 8, 2011
Cologne
Germany
Lanxess Arena
November 9, 2011
Arnhem
Netherlands
GelreDome XS
November 11, 2011
Antwerp
Belgium
Sportpaleis
November 13, 2011
London
England
The O2 Arena
November 14, 2011
November 15, 2011
November 18, 2011
Birmingham
LG Arena
November 19, 2011
Sheffield
Motorpoint Arena Sheffield
November 21, 2011
Manchester
Manchester Arena
November 22, 2011
Nottingham
Capital FM Arena Nottingham
November 23, 2011
Glasgow
Scotland
Scottish Exhibition and Conference Centre
November 25, 2011
Dublin
Ireland
The O2
November 27, 2011
Newcastle
England
Metro Radio Arena
November 28, 2011
Manchester
Manchester Arena
November 29, 2011
Birmingham
National Indoor Arena
December 1, 2011
London
The O2 Arena
December 2, 2011
Manchester
Manchester Arena
December 3, 2011
London
The O2 Arena
December 4, 2011
Hamburg
Germany
O2 World Hamburg
December 6, 2011
Łódź
Poland
Atlas Arena
December 7, 2011
Prague
Czech Republic
O2 Arena
December 8, 2011
Budapest
Hungary
Budapest Sports Arena
December 10, 2011
Zurich
Switzerland
Hallenstadion
December 11, 2011
Turin
Italy
Torino Palasport Olimpico
December 12, 2011
Milan
Mediolanum Forum
December 14, 2011
Barcelona
Spain
Palau Sant Jordi
December 15, 2011
Madrid
Palacio de Deportes
December 17, 2011
Lisbon
Portugal
Pavilhão Atlântico
December 20, 2011
London
England
The O2 Arena
December 21, 2011
December 22, 2011
Cancellations and rescheduled shows
| | | | |
| --- | --- | --- | --- |
| October 31, 2011 | Malmö, Sweden | Malmö Arena | Cancelled |
| November 2, 2011 | Stockholm, Sweden | Ericsson Globe | Cancelled |
Box office score data
Edit
Venue
City
Tickets Sold / Available
Gross Revenue
Air Canada Centre
Toronto
27,270 / 27,270 (100%)
$2,076,020
Bell Centre
Montreal
26,452 / 26,452 (100%)
$2,269,580
Palace of Auburn Hills
Auburn Hills
10,639 / 11,135 (96%)
$474,198
Rexall Place
Edmonton
11,634 / 13,127 (89%)
$855,923
Staples Center
Los Angeles
14,148 / 14,148 (100%)
$1,045,114
Oracle Arena
Oakland
9,348 / 11,488 (81%)
$659,387
American Airlines Center
Dallas
10,736 / 11,443 (94%)
$600,374
BankAtlantic Center
Sunrise
11,136 / 13,361 (83%)
$659,244
Mohegan Sun Arena
Uncasville
4,096 / 4,386 (93%)
$356,751
Odyssey Arena
Belfast
29,603 / 29,603 (100%)
$2,341,920
The O2
Dublin
24,517 / 24,517 (100%)
$1,933,164
The O2 Arena
London
166,717 / 172,050 (97%)
$12,076,950
Manchester Arena
Manchester
65,164 / 65,164 (100%)
$4,224,090
Sportpaleis
Antwerp
35,392 / 35,414 (~100%)
$2,074,020
O2 World Hamburg
Hamburg
13,409 / 13,409 (100%)
$970,164
TOTAL
460,261 / 472,967 (97%)
$32,616,899
References
Edit