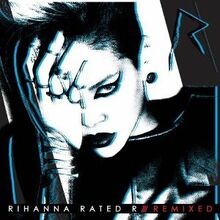 Rated R: Remixed (stylized as Rated R /// Remixed on the album cover) is the second remix album by Barbadian recording artist Rihanna. It was released on May 8, 2010, in Brazil and Europe and on May 24, 2010, in the United States by Def Jam Recordings. It contains remixes from her fourth studio album, Rated R (2009). The songs were solely remixed by Chew Fu. The majority of the remixes were remastered to draw influence from the genre of house music, and incorporate heavy usage of synthesizers as part of their instrumentation.
Rated R: Remixed received a mixed review from Jean Goon for MSN Entertainment. She praised Fu for remixing some of the dark and sombre songs into upbeat dance songs, but criticized the album as it did not provide memorability. Commercial performance of the album was relatively poor: it peaked at number four in Greece and number six on the US Dance/Electronic Albums chart; it peaked at number 33 on the US Top R&B/Hip-Hop Albums chart and number 158 on the US Billboard 200 chart. As of July 2010, Rated R: Remixed has sold 13,000 copies in the US, according to Nielsen SoundScan.
Track listing
Edit
1.Mad House (Chew Fu Straight Jacket Fix)
2.Russian Roulette (Chew Fu Black Russian Fix)
3.Rockstar 101 (featuring Slash) (Chew Fu Teachers Pet Fix)
4.Wait Your Turn (Chew Fu Can't Wait No More Fix)
5.Photographs (featuring will.i.am.) (Chew Fu 35mm Fix)
6.Rude Boy (Chew Fu Vitamin S Fix)
7.Hard (featuring Jeezy) (Chew Fu Granite Fix)
8.G4L (Chew Fu Guns In The Air Fix)
9.Fire Bomb (Chew Fu Motolov Fix)
10.Stupid in Love (Chew Fu Small Room Fix)
Note:Te Amo,Cold Case Love and The Last Song were not remixed by Chew Fu,and therefore not included on Rated R:Remixed,despite that the original track list of Rated R has 13 songs.
Ad blocker interference detected!
Wikia is a free-to-use site that makes money from advertising. We have a modified experience for viewers using ad blockers

Wikia is not accessible if you've made further modifications. Remove the custom ad blocker rule(s) and the page will load as expected.