As you know Rihanna celebrated a b'day a couples of days ago. Happy belated birthday Ri-Ri!!!! :D But waht caused more talking was the party and especially who showed up. Apparently the ex of Rihanna the handsome Chris Brown arrived there and word is they were very close @ the party. This is causing people to question whether they are a couple again. Well honestly if they do reunite it wouldn't suprise me. I mean the things they do on Twitter clearly shows that the chemistry is still there. And i mean its her choice, who are we to say who she can't date? And another question is taking facebook and twitter by storm: If Rihanna can forgive him why not us? I mean its a great question. I mean she's cool with it clearly, or he wouldn't have been there. I mean I believe we should let it go because honesltly there are 3 sides to the story of what REALLY and TRULY happened that night. Her side, his side, and the truth. And unless we were there we'll never know what really happened. I mean I just love and look up to Rihanna so much I think that if she's happy being the girl of Chris Brown let her!!!!! I mean she has the choice to decide what she wants. Do i think a reunion is in store...................................hard to say considering the twitter thing is not NEW. That has been happening. But i guess we'll have to see. And once again happy belated birthday Ri-Ri!!!!!!!!!!! :D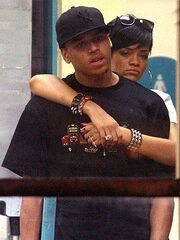 Ad blocker interference detected!
Wikia is a free-to-use site that makes money from advertising. We have a modified experience for viewers using ad blockers

Wikia is not accessible if you've made further modifications. Remove the custom ad blocker rule(s) and the page will load as expected.